In the last fifteen years there has been exceptional progress in understanding the signalling involved in the killing of tumor cells by tumor necrosis factor-related apoptosis-inducing ligand (TRAIL). In addition, the initial observation that TRAIL specifically induces cell death in tumor cells without affecting untransformed cells has inspired clinical trials with therapeutic agents designed to activate the apoptosis-inducing TRAIL receptors. Despite these advances, many questions still remain unresolved regarding the mechanisms underlying the resistance of normal cells to TRAIL. Furthermore, despite early promising results, a number of tumor cells, like those of the breast, pancreas, melanoma and neuroblastoma are frequently refractory to TRAIL-induced apoptosis. However, a general consensus for resistance to TRAIL has not yet been identified.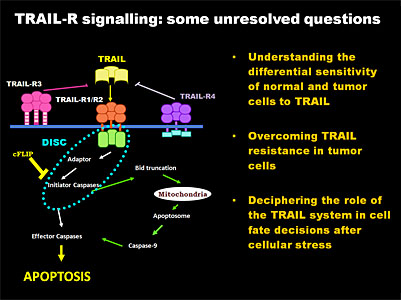 Our group has been investigating different aspects of apoptosis since 1989, with research grants from various sources and a number of publications in this field. Recent data from our group demonstrate that TRAIL induces cytoprotective autophagy in untransformed human breast epithelial cells. TRAIL-induced autophagy is mediated by the TAK1-dependent activation of the AMP-activated protein kinase (AMPK) that inhibits mammalian target of rapamycin complex 1 (mTORC1), a potent inhibitor of autophagy. These findings identify TAK1 as an activator of AMPK and cytoprotective autophagy and thereby as a regulator of cellular energy homeostasis and survival. The general goal of our current research is to elucidate the molecular mechanisms regulating TRAIL-induced apoptosis and autophagy in breast epithelial cells and to characterise the signalling pathways that generate resistance to TRAIL in tumor cells. In this respect, the main objectives of our research for the next five years are: a) to determine the relative contribution of cellular FLICE Inhibitory Protein (FLIP), autophagy, ER stress and cell cycle checkpoints to the resistance of cells to TRAIL and b) to investigate the regulation of TRAIL sensitivity during the epithelial-mesenchymal transition (EMT) in the progression of carcinomas.
Tumor microenvironment is characterized by glucose deprivation, acidosis, and severe hypoxia. These combined factors lead to the accumulation of misfolded proteins in the endoplasmic reticulum (ER), triggering the unfolded protein response (UPR) to facilitate tumor survival and growth. Besides the survival role of the UPR, different results suggest that activating the UPR in tumours by microenvironmental cues may modulate the expression of proteins of the extrinsic pathway of apoptosis, sensitizing these cells to TRAIL. Furthermore, our own results demonstrate that treatments that activate the UPR induce apoptosis, up-regulate the expression of TRAIL receptor 2 (DR5) and down-regulate the expression of anti-apoptotic proteins in different cell types. We are currently trying to identify the UPR branches that are involved in the regulation of these proteins.
Targeting mitotic exit has been recently proposed as a relevant therapeutic strategy to fight cancer with anti-mitotic drugs. In this respect, our recent results indicate that mitotic arrest sensitizes breast tumor cells to TRAIL by the proteasome-mediated degradation of the caspase inhibitor FLIP. Our goal is to understand the regulation of FLIP expression during mitosis and the role of cyclin-dependent kinase-1 (CDK1) in the control of FLIP levels and TRAIL sensitivity.
Regarding EMT and sensitivity of tumor cells to death receptor-mediated apoptosis, it has been reported that EMT confers resistance to cell death induced by TNF-alpha and CD95L. However, it remains unknown whether the transition to the mesenchymal phenotype leads to a reduced susceptibility to TRAIL. Because recombinant TRAIL and monoclonal agonistic antibodies against pro-apoptotic TRAIL receptors are currently undergoing clinical trials as anti-cancer agents, it is of pivotal importance to investigate the response of tumor cells to TRAIL during EMT. In this respect, we plan to investigate the role of FLIP in the regulation of TRAIL resistance in EMT and in particular, during tumor progression.
Funding:
-Ministerio de Economía y Competitividad (SAF2015-64383-P)
-Proyecto de Excelencia de la Junta de Andalucía (P12-BIO-0778)
-Centro de Investigación Biomédica en Red de Cáncer (CIBERONC) (CB16/12/00421)
-Red de Excelencia para el estudio de la Autofagia (BFU2015-71869-REDT)
-Unión Europea (FEDER)