eLife. DNA-RNA hybrids at DSBs interfere with repair by homologous recombination.
Nature Communications. Harmful R-loops are prevented via different cell cycle-specific mechanisms.
Nature Communications. Two parallel pathways connect glutamine metabolism and mTORC1 activity to regulate glutamoptosis.
Nature Communications. ADAR-mediated RNA editing of DNA:RNA hybrids is required for DNA double strand break repair.
Nature Communications. CENP-V is required for proper chromosome segregation through interaction with spindle microtubules in mouse oocytes.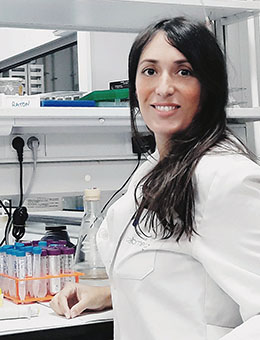 Vivian Capilla González
Prevención de las complicaciones neurológicas de la radioterapia
Nuestro grupo de investigación estudia el desarrollo de estrategias que ayuden a minimizar los efectos secundarios de la radioterapia. Para ello empleamos la terapia celular en ensayos preclínicos con ratones. Nuestro objetivo final es lograr que los pacientes oncológicos que reciben radioterapia puedan tener una calidad de vida óptima tras vencer su lucha contra la enfermedad.
The schedule of Cabimer's 2023-2024 seminars will be published in September, but you can see
here
the list of this year's seminars.