Nature Communications. The human nucleoporin Tpr protects cells from RNA-mediated replication stress.
Nature Genetics. The SWI/SNF chromatin remodeling complex helps resolve R-loop-mediated transcription–replication conflicts.
Theranostics. The metabesity factor HMG20A potentiates astrocyte survival and reactive astrogliosis preserving neuronal integrity.
The EMBO Journal. BRCA2 promotes R‐loop resolution by DDX5 helicase at DNA breaks to facilitate their repair by homologous recombination.
eLife. TRIM37 prevents formation of centriolar protein assemblies by regulating Centrobin.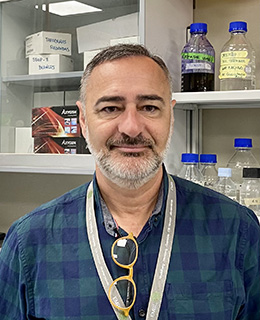 David Pozo Perez
Cellular and Molecular Neuroimmunology
Not so long ago, immune responses in neurodegeneration were regarded as rare birds in the field of clinical neurology. Today, they are increasingly moving toward centre stage. The rationale behind includes the recognition that most of the relevant immune molecules are produced within the brain, that microglia among other immune-competent cells are proficient tools shaping neuronal circuitry and fate, and that systemic immune responses affect brain function in health and disease. Our group is interested in how the immune system inside the central nervous system is finely regulated at molecular and cellular levels. We are focused on the role of neuro-immune interactions in Parkinson's disease (PD) and Amyotrophic Lateral Sclerosis (ALS).
The schedule of Cabimer's 2021-2022 seminars will be published in September, but you can see
here
the list of this year's seminars.