Immune signaling in neurodegenerative proteinopathies
Cintia Roodveldt, Ph.D.
Assoc. Prof., University of Seville, Spain
CABIMER-Andalusian Center for Molecular Biology & Regenerative Medicine.

Immune signaling and molecular chaperones in neurodegenerative proteinopathies
Research Grants (Principal Investigator)
2019-2023: Spanish Ministry of Science.
2019-2022: Fundación 'Ramón Areces', Spain.
2015-2018: RETOS-Colaboración, Spanish Ministry of Economy-MINECO.
2013-2015: Spanish Ministry of Economy-MINECO.
Major Research Interests
Protein misfolding diseases (PMDs), including Parkinson's, Alzheimer's, and Amyotrophic Lateral Sclerosis (ALS), are incurable and increasingly prevalent neurodegenerative disorders characterized by the aberrant misfolding, aggregation and deposition of specific proteins in certain areas of the brain, and ultimately leading to neuron death. The underlying pathogenic mechanisms of these highly complex pathologies are still poorly understood, but dysregulated immune responses involving exacerbated neuroinflammation and peripheral immune imbalance, are currently thought to play a major role in the development of disease.
In the last few years, a link has been established between a number of misfolding proteins, such as α-synuclein, β-amyloidand TDP-43, and exacerbated microglial activation and inflammation within the CNS, leading to neurodegeneration. The aim of my research is to elucidate the molecular mechanisms involving misfolding proteins and heat-shock proteins —with prominent anti-aggregation functions and emerging immune-modulating activities— in immune dysregulation associated to neurodegenerative disease.
Address
Cintia Roodveldt
CABIMER-Andalusian Center for Molecular Biology & Regenerative Medicine
Av. Americo Vespucio 24, Parque Científico-Tecnológico Cartuja 93
41092 Seville, Spain
Tel. +34 954467841
e-mail: cintia.roodveldt@cabimer.es
Links
PubMed
https://www.ncbi.nlm.nih.gov/pubmed/?term=Roodveldt+C
ORCID
https://orcid.org/0000-0003-4124-8769
Researcher ID
http://www.researcherid.com/SID=E2xjJH4Wjo3eweU4uAO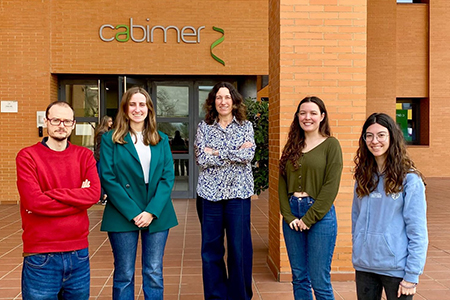 -Lucía Silbera Carrasco, M.Sc.
-Raquel García García, M.Sc. (Fundación 'Tatiana de Guzmán El Bueno' Fellowship)
Technician: -Daniel Tejada Moreno (Programa de Garantía Juvenil, Junta de Andalucía)