Research areas:
-Topoisomerase 1: A 'double-edged sword' for genome stability and target cancer treatment
-Ion homeostasis and oxidative stress
-Improved sunlight protection
Topoisomerase 1: A 'double-edged sword' for genome stability and target cancer treatment
Chemotherapy is an important approach in the treatment of human cancer. Most of the frontline anti-cancer agents are known to interact with DNA or DNA interacting proteins in order to exert their anti-cancer effects. An example for the latter one is Topoisomease 1, an enzymes that changes the supercoiling of the DNA and are required during transcription, recombination and replication. Topoisomerase 1 (Top1) inhibitors have recently been introduced in the clinical treatment of solid tumors including colon, lung and ovarian carcinomas.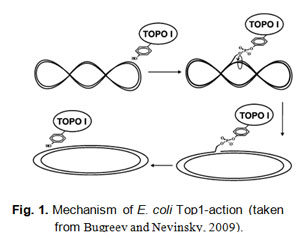 Top1 inhibition is linked to torsional stress and genome instability, and we take advantage of yeast and human cell cultures to understand the factors and molecular processes connected to genome integrity, and hence human disease. This understanding helps us to develop new strategies for the development of 'intelligent' Top1 inhibitors and improved treatment of metastatic cancers.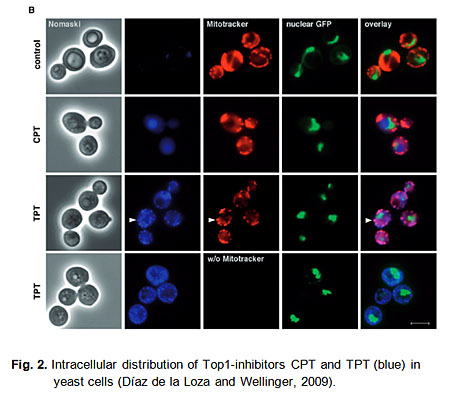 Ion homeostasis and oxidative stress
A characteristic of transition metals is that they exhibit two or more oxidation states. E.g. transition metals are essential co-factors for the function of enzymes involved in oxidative stress defense. This includes the Zn/Cu superoxide dismutase SOD1 needed for the detoxification of reactive oxidative species (ROS), but when mutated can cause amyotrophic lateral sclerosis (ALS).
Mn is another transition metal needed for the activation of Golgi-hosted mannosyltransferases. Cis-Golgi Mn-supply depends on Pmr1, a P-type ATPase required for Mn2+/Ca2+ transport. Mutations in the human PMR1 homolog ATP2C1 leads to skin ulceration, improper keratinocyte adhesion and cancer formation in Hailey-Hailey patients. Interestingly, ATP2C1 can complement for Pmr1 function, making it possible to use yeast as a simple system for Hailey-Hailey disease modeling.
We are interested in the understanding the impact of ion-dependent ROS on mitochondrial function, aging and genome integrity. In addition, we take advantage of yeast-based screening approaches to detect small compounds for human disease treatment (e.g. Hailey-Hailey disease).
Improved sunlight protection
Up to 1 in 5 people will develop skin cancer during their lives, and yearly rates of new cases of deadly forms of skin cancer, such as melanoma, are increasing exponentially in western society. In Europe 32'107 new incidents of melanoma cases are registered per year, with 1'606 new annual incidents in Spain.
In this project we want to provide scientific evidence that flexible UV filters provide superior protection to harmful UV radiation (while at the same time allowing for better tanning), as compared to 'static' UV filters that are in use nowadays.