Research lines: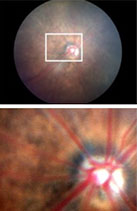 Degenerative diseases of the retina are a heterogeneous group of ophthalmological pathologies, which are produced by the degeneration of photoreceptors and/or retinal pigment epithelium, with the consequent progressive loss of visual acuity leading to blindness. According to statistics published by the World Health Organization (WHO), it is estimated that at least 2.2 billion people have visual impairment or blindness, of which at least 1 billion have a visual impairment that could have been prevented or even treated. With the recent development of advanced therapies in ophthalmic clinical practice, some cases of retinal degeneration, which were previously incurable, are currently being treated. For this reason, more research is needed to continue the worldwide fight against blindness.
Our research focuses on inherited monogenic retinal dystrophies such as retinitis pigmentosa (RP) and genetically complex diseases affecting vision like age-related macular degeneration (AMD). Starting from the genetic information, we pursue the study of specific disease mechanisms to explore and test new therapeutics for degenerative retinopathies that are currently incurable. To study the molecular mechanisms of retinal degeneration, we used both classical in vivo models of retinal degeneration and cellular models by reprogramming induced pluripotent stem (iPS) cells obtained from clinical samples and their subsequent differentiation into specific cell types of the retina. All our experimental tools and human resources are ultimately focused on translational research since the final goal of our research project is the development and preclinical evaluation of new therapies to treat retinal degenerative diseases. Our approach includes gene therapy and gene editing using CRISPR/Cas9 technology, cell therapy using iPS, development of new neuroprotective small molecules as well as the application of nanotechnology and biomaterials for therapeutic purposes. In the frame of translational research, we have created the Spin-off Limno Pharma S.L. to boost a future clinical trial for RP and AMD. We also work in close collaboration with the Clinical Ophthalmology Department of University Hospital Virgen Macarena and patient's associations.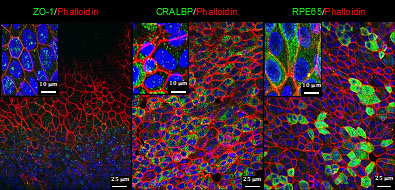 The main research lines of the group are:
i)  Functional characterization of genes related to eye disease.
ii)  Impact of mutations on protein function to understand the molecular basis of the disease.
iii)Development of novel therapeutic approaches and biomarkers for retinal degenerative diseases.
Current research projects:
Preclinical study to evaluate the safety and efficacy of retinal pigment epithelium transplants grown on a nanostructured hydrogel to treat age-related macular degeneration (AMD CELLS-II). PI20/00043
Preclinical study of ex vivo genomic editing therapy for retinitis pigmentosa. PI-0099-2018
Preclinical study to evaluate SIRT1 and VEGF modulating drugs as a therapeutic for macular degeneration and diabetic retinopathy (SIRT-IN-EYES). PI17/01026
Predoctoral and Master's students are welcome to join our research lines.
 Recent Funding: