Genes Dev. UAP56/DDX39B Is a Major Cotranscriptional RNA-DNA Helicase That Unwinds Harmful R Loops Genome-Wide.
Nature Cell Biology. Asymmetric inheritance of spindle microtubule-organizing centres preserves replicative lifespan.
Aging (Albany NY). Inadequate control of thyroid hormones sensitizes to hepatocarcinogenesis and unhealthy aging.
EMBO Rep. The DNA damage response acts as a safeguard against harmful DNA-RNA hybrids of different origins.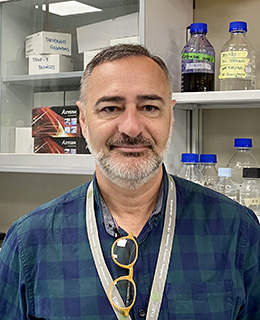 David Pozo Perez
Cellular and Molecular Neuroimmunology
Not so long ago, immune responses in neurodegeneration were regarded as rare birds in the field of clinical neurology. Today, they are increasingly moving toward centre stage. The rationale behind includes the recognition that most of the relevant immune molecules are produced within the brain, that microglia among other immune-competent cells are proficient tools shaping neuronal circuitry and fate, and that systemic immune responses affect brain function in health and disease. Our group is interested in how the immune system inside the central nervous system is finely regulated at molecular and cellular levels. We are focused on the role of neuro-immune interactions in Parkinson's disease (PD) and Amyotrophic Lateral Sclerosis (ALS).
01 September 2020

Seminario

Por cuestiones de seguridad sanitaria se cancelan todos los seminarios hasta nuevo aviso.