Nature Cell Biology. Asymmetric inheritance of spindle microtubule-organizing centres preserves replicative lifespan.
Nucleic Acids Res. The Nup84 complex coordinates the DNA damage response to warrant genome integrity.
Cell Rep. A Meiotic Checkpoint Alters Repair Partner Bias to Permit Inter-sister Repair of Persistent DSBs.
Diabetes. Transient PAX8 Expression in Islets During Pregnancy Correlates With Beta Cell Survival Revealing a Novel Candidate Gene in Gestational Diabetes Mellitus.
PNAS. Human mitochondrial degradosome prevents harmful mitochondrial R loops and mitochondrial genome instability.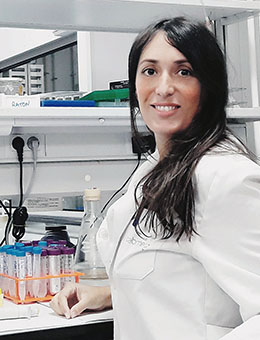 Vivian Capilla González
Prevención de las complicaciones neurológicas de la radioterapia
Nuestro grupo de investigación estudia el desarrollo de estrategias que ayuden a minimizar los efectos secundarios de la radioterapia. Para ello empleamos la terapia celular en ensayos preclínicos con ratones. Nuestro objetivo final es lograr que los pacientes oncológicos que reciben radioterapia puedan tener una calidad de vida óptima tras vencer su lucha contra la enfermedad.
13 December 2019

Seminario

Álvaro Rada-Iglesias – Compatability between genes and enhancers in development and congenital disease

17 January 2020

Seminario

Pere Santamaria – Nanomedicines for the treatment of chronic inflammation

31 January 2020

Seminario

Ritwick Sawarkar – Transcriptional response to proteotoxic stress in mammalian cells